FAQ
---
You may have any number of questions for us.
We list a few common ones here along with our responses.
How are you different to any other smaller legal firm?
We deal purely with commercial law and corporate legal advice. That means we can bring our specialist experience to bear on your business challenges. Because we only focus on this area, we are geared up to efficiently handle commercial legal matters. That allows us to pass on cost savings to our clients.
Why can you deliver such competitive rates?
We are geared up for low overheads because of the way we use technology and how we are structured. By keeping our costs low, we can pass on those savings to clients.
Are you experienced enough to handle my corporate transaction?
The solicitor with whom you'll be dealing will have handled many similar transactions over many years. Their background will have included at least 10 years' experience of commercial legal work, including extensive experience of transactional corporate legal work, such as buying and selling companies.
Is it necessary to have a specialist solicitor for my business sale?
We would recommend this. Sales of shares or assets in a business can be complex. If you are thinking of selling your business, you should be aware that a buyer will seek various protections from a seller. The process can be complex and may involve obtaining expert advice from tax and corporate finance advisors. Get it wrong and you may end up with less value being returned to you than you had initially hoped. We can guide you through the share or asset sale process and help protect your financial position.
Do I need specialist legal advice if I am a shareholder?
If you are a shareholder in a private limited company, you should take expert legal advice to protect your position. For example, you'll need to think about what happens if another shareholder (who is also a critical employee) decides to leave – how do you get those shares returned to the other shareholders? At what price? Can the exiting shareholder be forced to sell? Another issue arises where there is a disagreement between the parties. What happens if not all shareholders agree on a specific plan for the company? Who gets to decide? What if there is deadlock?
How are fixed fees different from a quote?
A quote for legal costs is often an estimate of the amount of time (and the associated charges) that a lawyer anticipates to spend on your matter. In many cases, that quote needs to be amended as work proceeds. We offer fixed fees for many transactions, which means that your legal costs are never going to exceed the fixed fee quote for the work that we have scoped.
What happens if you spend more time on my matter than you thought you would?
We have a lot of experience in undertaking transactions and where we have quoted a fixed fee for your transaction, we will stick to that, regardless of whether we have spent additional time on your matter
How do I know your fixed fees are competitive?
We would encourage you to shop around for alternative quotes for your transaction. We think that our pricing model is competitive for the level of expertise which we bring to your commercial transaction. However, there may be times when other providers can offer the same level of service at a lower price point. If that is the case, we will always discuss with you whether it is possible to be more competitive.
I only have a small contract to review – can you help?
Yes. We are always happy to give advice on any type of contract.
I am worried about the costs of legal advice
Understandable. We know that some businesses can find the potential costs of legal advice to be a barrier to seeking assistance. A lawyer doesn't necessarily know how long they will need to spend on your matter. For example, there could be extended negotiations with the other party that need to be factored in. Because of this, charges can often be calculated on a time spent basis. We appreciate that many businesses like to have pricing certainty, which hourly charging does not give. We try to take the stress out of getting specialised commercial legal advice by agreeing fees up front. We often operate on a fixed fee basis.
Do you need me to 'go paperless' for my transaction?
There is always going to be 'paperwork' involved in dealing with legal issues. To keep our costs low and allow us to pass on those savings to you, we utilise technology to reduce unnecessary paperwork and information gathering. Wherever possible, we undertake work on a 'paper free' basis. We ask that our clients do the same. This can involve asking you to provide documentation in an electronic form, to avoid us incurring costs in scanning hardcopy paperwork. We have extensive experience in helping clients undertake paper free transactions and can assist you eliminate paper from your transaction.
Do you buy/sell houses?
No, we don't undertake residential conveyancing work. We can put you in touch with a firm that does, though.
Do you do court work?
No, we don't undertake court work. We can put you in touch with a firm that does, though.
Can you help me with my will?
No, we don't undertake private client work. We can put you in touch with a firm that does, though.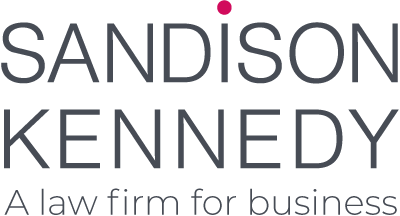 Sandison Kennedy Limited. A company registered in Scotland (SC585088). Registered Office: 7 Queen's Gardens, Aberdeen, AB15 4YD. A law firm regulated by The Law Society of Scotland
7 Queen's Gardens,
Aberdeen, AB15 4YD
01224 443555